Ok all, I am hosting a giveaway!
Firstly, because it is fun to win stuff, and secondly and most important, is to get the word out about the Lemonade Stand Campaign.
The Lemonade Stand Campaign's purpose is to raise money and awareness for orphans around the world and the organizations that are helping to care for them.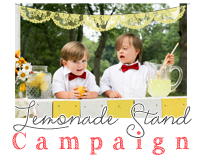 Ok, so what does this have to do with a giveaway?
This may be kind of lofty since, ok confession here, haven't exactly sold anything!
But in evaluating why I wanted to try to sell my handmade accessories, I ultimately want to be able to use them for a bigger purpose. To give back to others through something I enjoy making.